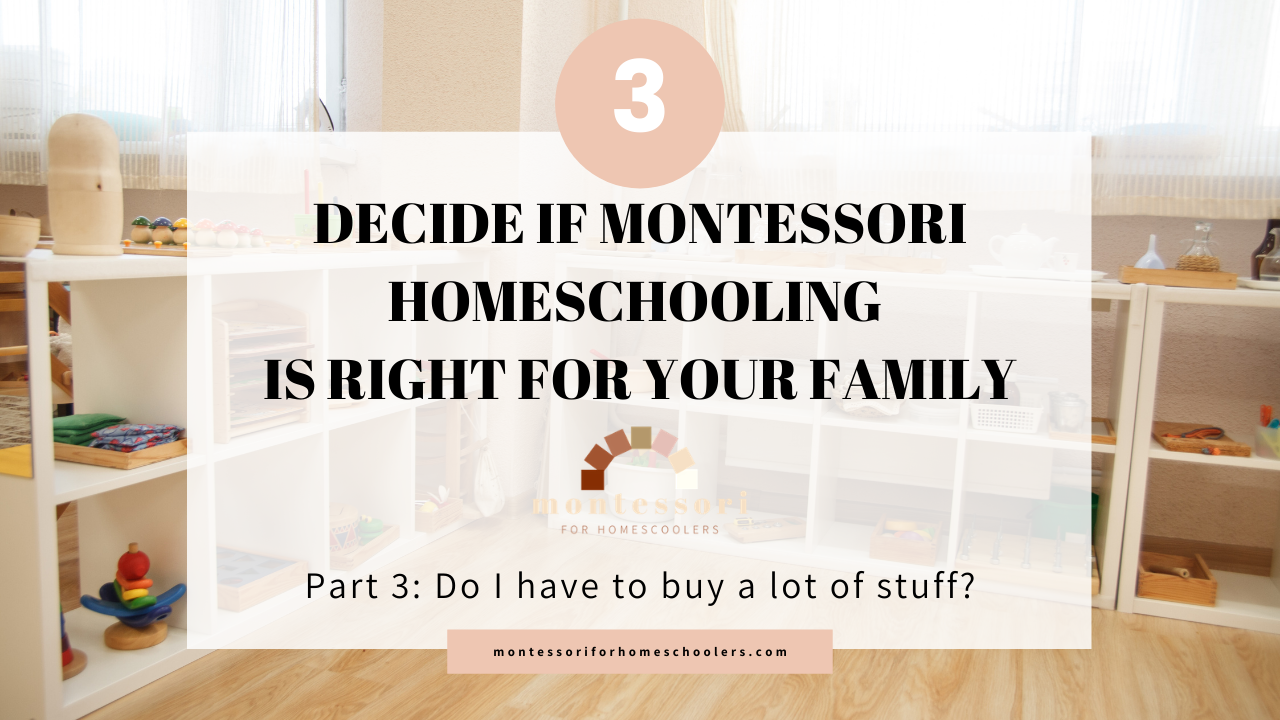 Katie Key - June 2020
Is Montessori Homeschooling Right for My Family?

Part 3: Do I Have to Buy A Lot of Stuff?
As you are deciding about whether or not Montessori homeschooling is right for you and your family, one thing you must consider is your investment in Montessori materials.

A quick Google search on Montessori brings up a lot of things. There are many Montessori materials for each subject that could be purchased. A Montessori classroom is chock-full of materials.

At first glance, a family may decide against Montessori homeschooling, because they think they have to buy a lot of stuff!

I was in this boat, but since I took the time to research when my children were so young, I was committed to acquiring materials over a long period of time. I will tell you, though, after so long in the Montessori game, that the materials are not all necessary. They are also very easy to DIY, especially if you have a color printer, some card stock paper, and a cheap laminator. Some families like to make their own versions of materials using simple woodworking, painting, cardboard, or sewing.

While it is true that Montessori is heavy in the physical materials, many families are learning to make many substitutions to make Montessori homeschooling more affordable and accessible.

This is one of my greatest passions, as I have seen the fruits of Montessori homeschooling, and I hope to enable more families to experience this type of learning at home. I am compiling a list of all of the math materials that you would need for a full Montessori math curriculum that spans the ages of 3 to 7 years old. What's awesome is that almost all of the math materials are easy DIY's!

For reading and writing, there is an inexpensive DIY or printable option for every activity.

When Maria Montessori had her first Children's House, she hand-made all of the materials. When she perfected the sense materials (the sensorial exercises), she had a carpenter build the materials she needed. The sensorial materials can be made at home, but these are probably the hardest to replicate to a degree that they would be worth making yourself.


Buy, Borrow, or DIY Based on Your Family's Budget.

I work from home (on this blog, on raisingkingdomwarriors.com, and on creating resources for both sites), so I don't have as much time to DIY as I would like! I, instead, set a budget to acquire the materials we needed for our homeschool.

I buy in chunks to take advantage of free shipping. Over all of the places on the internet, I have found adenamontessori.com to be the most budget-friendly option, and they offer free shipping for orders over a certain amount.

To help families who use my Montessori Christian Homeschool Preschool Curriculum, I scheduled the presentations for the sensorial activities so that a child was introduced to one higher cost material or two lower cost materials each month. This way, families are able to budget accordingly.

To justify the cost of the materials, I calculated what it would cost for me to send one child to half-day Montessori school for two months. I used that budget for the entire year. I've spent about that much each year, and I could have spent way less if I were willing to DIY my own materials.

In Conclusion, you don't have to buy a lot of stuff. Unless you want to.

You CAN get buy with 100% DIY and thrift-store finds! You do not have to have a full classroom of materials!

My advice is to learn the philosophy, little by little, and use the Montessori method to present what you have!
I make Montessori workbooks that serve the need for families who want to implement Montessori philosophies at home but don't have the time, space, budget, or desire for the materials.

The Montessori Math Workbook - Book 1 for children ages 3-6 is available now. I created it to be a review for my four year old, as I felt the need to have some daily math practice. The daily math practice was just not happening using the physical Montessori math materials due to the interruptions from my toddler and infant. (The Golden Bead Units find themselves in my two year old's ear canal, and the baby started crawling way too early for any small items to be safe…)

With the Montessori Math Workbook - Book 1, I am able to work with my daughter on Montessori math at our dining room table during our Morning Time. The baby is usually playing in her safe space, and the toddler gets up and down from her own spot on the table, not tempted by any small objects. This allows me to give my four year old my full focus when she needs to be guided through the math work.

I've heard many amazing things from other families using the Montessori Math Workbook! One of the most repeated praises is that it is helping families who, for whatever reason, do not have access to the physical materials. Many of the families using the workbook have found it to help them during the current COVID-19 pandemic. Schools are finding it and sending it home with their students. Parents are loving the step-by-step and easy to follow directions.

I still love, love, love the physical Montessori math materials! We use the Math Workbook as a supplement, but my daughter is learning a ton from doing a little of the workbook each day. So that's what's working for us currently!

I have plans to continue the math workbook series all the way through primary math and beyond. God-willing, I will do the same for reading and writing. The Montessori progression for these subjects is just beyond compare to what I've found in other curriculums.
4 comments
Katie KeyJun 02, 2021

Hi Lucia! That is a GREAT question!

Although there are printable versions you will still use for many of the activities, I love having a short bead stair 1-9 plus at least one 10-bar and the small set of number rods!
Everything else is really easy to DIY.

Thank you for your purchase!

Best,
Katie

Lucia MendozaJun 02, 2021

Hi, thanks for this blog and your workbook. We're buying it. I have two active boys 5 and 3 and my nephew who's shy to turn 3 in a couple of months. What would be the 2 things/materials you'd recommend buying that will go along with your math workbook for concrete materials?

Thanks,
Lucia

Alice C.Jun 02, 2021

Hi there,
I'm interested in getting this materials for my daughter to learn math. She is rising to second grade in fall. Would you please advice is this still be the right materials for her level?